Homework Helper Essential Oils & Safe dilution for Children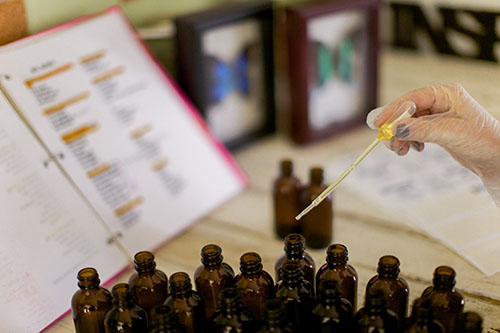 Homework Helper Essential Oils
*Rosemary- (Rosmarinus officinalis ct. verbenone) Due to camphor content use a maximum of 1% dilution for topical use, and for children 2 years and older. NOT RECOMMENDED FOR WOMEN WHO ARE PREGNANT OR NURSING. Rosemary can be a, stimulating oil and should not be used @ Night. Jane Buckle, PhD, RN writes "about 15 years ago I found that children with ADHD became more stimulated with sedative essential oils such as Roman Chamomile and lavender. So, I tried essential oils with stimulant properties and found they had a relaxing effect."
Hyperactivity-Clinical Aromatherapy(Buckle)
Focus
Respiratory Supportive
Assists in Fighting Germs
*****The Essential Oil Safety 2nd Edition Contraindicates against the use of Rosemary ct. 1,8-cineole on or near the face of infants or children. NOT ct. verbenone
*Lavender- (Lavandula angustifolia) Some parents claim their children have suffered reactions to lavender opposite of the following: However; the cause may be because of an impure oil or absolute. (there is no research to support this)
Focus
Respiratory Supportive
Balancing
Sleep
Calms
Inhibit growth of viruses
Hyperactivity (Buckle)
Frankincense- (Boswellia carterii) aka Boswellia sacra Avoid Old or Oxidized Oils; may cause skin sensitization.
Beneficial for healthy fluid balance
Respiratory supportive
Assists in Fighting Germs
Soothes the Nervous system
Essential Oil dilutions for EVERYDAY USE on Children
**Unless treating for specific infections** Buckle
1 Roll On Holds 8 ml of oil
2 – 5yr = 1-2 drops
5-10 yr = 2-3 drops
10+ = 3-5 drops
1 ounce carrier
2-5 yr = 1 %
5-10 yr = 1-2%
*Mandrin- (Citrus reticulate)
Avoid oxidation by storing in an
Dark Airtight container in a refridgerator.
Also used successfully in Buckle
Student studies for Hyperactivity
Inhibit growth of viruses
Maintain Healthy intestinal flora
Discharge phlegm & mucous associated
With daily living
Supports appetite
Both uplifting & Calming
Relaxing
Vetiver- (Vetiveria zizanoides)
Calms
Focus
Cooling
Grounding
Immune stimulant
Overall Tonic
Patchouli – (Pogostemom cablin)
Calms
Relaxes
Grounds
Skin Healing cell regenerative
Destructive to Bacteria
Cypress – (Cupressus simpervirens) Avoid oxidation by storing in a dark air-tight container in refrigerator.
Clears the mind
Soothing
Aids in reduction of fluid
Reduces Mucous Production
Lime- (Cirtus aurantifolia)distilled lime is NOT PHOTOTOXIC
Uplifting
Refreshing
Eases Fear
Sweet Basil- (Ocimum basilicum ct. linalool)
Respiratory Supportive
Clears the Mind
Destructive to Bacteria
Relieves Nausea
Inhibits growth of Fungus
BLEND#1 BlEND #2 BLEND #3
1 d.p lime 1 Drop Rosemary ct. verbenone 1 drop Basil
1 d.p lavender 1 Drop Lavender angustifolia 1 drop Rosemary ct. verbenone
1 d.p vetiver. (add 1 drop for children over 10) 1 drop Cypress Cupressus simpervirens
What I did was Cross Reference Oils:
1.That I have available for use
2.Those found most effective for:
Hyperactivity
Concentration
Immune supportive
Blending (Aroma)
3.Those that are safe for children
Be advised more Oils can be used if added together in one bottle and using 1,2,3 drops of that specific blend. This however is not what we did.
Sources:
Butje, Andrea. (2016). Aromhead Institute School of Essential Oil Studies. Retrieved from http://www.aromahead.com/online-course/aromatherapy-certification-program
Buckle, PhD, RN. (2015, 2003, 1997).Clinical Aromatherapy Essential Oils in Healthcare. St. Louis, MO: Churchill Livingstone
Tisserand, R. Young, R. (2014) Essential Oil Safety Second Edition. Robert Tisserand and Rodney Young.